No responses
The Sinagua Indians were a peaceful Indian tribe that lived over 900 years ago in the Sedona Red Rock area. Their ancestors came over the Bering Strait from Asia around 13,000 BC and roamed the North and South American countryside.
The Sinagua tribe settled in Sedona and became farmers. They grew corn and lived off the land. They also built homes in the walls of the
 Red Rocks which can be still seen today.
One such site is the Palatki Heritage Site. At this site are remnants of their homes built of stone and clay along with writings on the wall that describe the history of their and other tribes that came after them such as the Apache from Northwest Canada.
There are two types of writings that can be found at this site:
Petroglyphs or etched markings in the stone. These are created by removing part of a rock surface by incising, picking, or carving into the rock.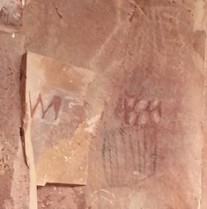 Pictographs or painted symbols. Pictographs came later and were a means of telling a story with pictures.
The Sinagua Indians mysteriously disappeared from the area around the 1400s. It is not determined whether they left the area because of decades-long drought, disease, or other Indians drove them out.
Sites like these are preserved by the National Park Service to remind us of their culture and the contributions that they have made to the history of our land.
What legacy are you leaving for future generations?
~Cheryl Pastor, Social Media Specialist