No responses
Is your house as hectic as mine, feel like clutter is everywhere and you have nowhere to put it? Especially with little ones and right after Christmas there's toys and new items all over the place.
Thanks to Google, HGTV and Pinterest I have gathered 25 brilliant ways to take control of the chaos:
Use shelf risers so you can keep two nice, straight tiers of DVD's in any cubby-sized hole. (And if you're like me, you will alphabetize the DVD's.)
Hang shelves upside down so that the brackets automatically create built-in compartments.
Keep junk drawers neat with bins velcroed to the bottom.
Use wire CD racks to organize Tupperware lids.
Use a pegboard to keep dishes well-ordered.
Put all the stuff that would normally be cluttering up the front of your fridge on the inside of your cupboard instead
Fasten pipe straps from hardware store inside a cabinet to make a cheap and easy utensil holder.
Use dollar store stacking bins that are a perfect size to organize your bathroom cabinet.
Doorknobs are a great way to hang individual shower caddies for each family member.
Tension rods make an easy scarf hanger
Use a shoe organizer to organize socks and underwear, also great for baby clothes!
Use ice cube trays to organize things like earrings and other jewelry.
Use Tic Tac containers to organize and dispense ribbon.
Nails and binder clips are a great way to store paint tubes.
Keep the thread and buttons from your clothing in a binder or photo album, labeled of course.
Attach wire bins where you need them with command hooks.
IF you don't have much nightstand space, keep magazines and remote controls in a bedside pocket caddy.
Hide your stuff: Ottomans are a great decorative piece that you can store away those extra blankets, pillows or kids toys in the living room.
Use an A-Z accordion file for storing instruction booklets for appliances and electronics. Staple the receipt to the inside of the booklet and then file it under the letter of the alphabet it fits. For example: Vacuum goes under V and not under the brand name. This makes it easy for anyone in the household to find instruction booklets without having to ask or search all over.
Store grocery bags in an empty tissue box.
Tension rod underneath cabinet to store cleaner and use a basket for TP also.
Use a clip or carabineer to keep your hair ties together.
Use a shoe rack inside a pantry closet door to hang food and bottles.
Bend wire hanger to hang your flip flops.
Use a soda can top to hang outfits together in a closet.
These 25 ideas came from few simple Google and Pinterest searches. Below you will find links which show other ideas as well as photos for these tips.
http://bzfd.it/1s36IGA
http://bit.ly/1ACwLpQ
http://bit.ly/14k8OqO
Do you have any brilliant home organizing tips? We would love to hear them!
Go to our Facebook page www.facebook.com/barrsinsurance and post your idea.
Don't forget to "like" our page while you're there!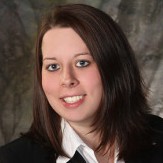 Blogger: Kerri Yashinski
Barr's Personal Lines Account Manager