No responses
Your houseplants have looked so beautiful on your porches and decks all summer enhancing the feel of nature around you.
Now that the temperatures are dipping into the mid-40's, it's time to start preparing and moving them back indoors to prevent the risk of injury.
Five things you can do to get your plants ready for the transition to their new indoor environment are:
Clean Them Up
Move your plants out into the yard or sidewalk. Clip off any dead or damaged leaves, stems, or flowers. Trimming them back will encourage new thicker growth for the next season. Follow clipping with a gentle shower from the garden hose. This will wash away any dust, cob webs, or first round of bugs before bringing them indoors.
Inspect Your Plants for Bugs
Who wants a buggy house? Not me! Before carrying them indoors, inspect the stems and leaves (including the underside) carefully. Smaller plants can be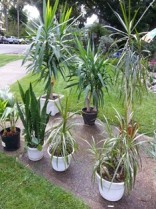 submerged in a 5 gallon bucket of water for 15 minutes. (Don't do this on succulents or bulb plants – they need dry soil during their winter sleep).
If you do discover an insect problem, treat them with an organic insecticidal soap or spray. You can Google many natural repellants that you can make in your kitchen. One example is:
Repellent Soap: Add 10-15 drops of essential oils per ounce of liquid Castile soap. Try essential oils such as lemon balm (citronella), pennyroyal, lavender, and rose geranium. Wash before and after spending time outdoors.
Repot Them
Repot crowded or leggy plants into new containers. Prune leggy plants back first before repotting. Be sure to scrub the pots thoroughly and replant them in fresh potting soil. (or soil from a compost pile).
Reduce Feeding
Plants receive less light when indoors and grow more slowly. Slower growing plants need less frequent and a lesser strength of fertilizer. If a plant is dormant or semi-dormant when indoors, stop fertilizing all together and resume in the spring when new growth begins to show up.
Less Water
Overwater will kill a plant more quickly than under watering. Indoors plants need less water especially during rainy or cloudy days since they don't dry out as quickly. To test to see if watering is needed, do the touch test: let the surface of the soil get dry to the touch between watering.
Plants have so many benefits. They bring nature indoors, exchange carbon dioxide for oxygen, are relaxing and beautiful to see.
Take care of your plants and they will take care of you.
What steps do you do to prepare your plants for the indoors? What problems have you run across with trying to grow plants indoors? What is your favorite indoor plant?
Let us know in a comment below. We'd love to hear your tips and tricks.
~Cheryl Pastor, Social Media Specialist.