No responses
There are just a few steps and a little time needed to care for and enjoy your potted planters and hanging baskets all summer.    There is nothing more enjoyable and relaxing than coming home after a hectic day and seeing a beautiful patio or deck waiting for you to enjoy with your family.
Start by choosing the right plants for your setting, either sun or shade plants. Pick bright colors and mix your plants so if one doesn't do well the others will fill in.   Start in the middle with a taller plant, then, fill in around the outside edge with mounding and trailing varieties.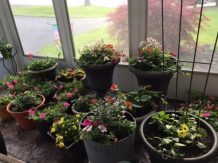 Water your baskets and pots regularly. You should water enough that the water runs out the bottom.  There is a small amount of soil in the pot so it tends to dry out quickly.  During hot sunny days, you may find that you need to water in the morning and late afternoon.  Of course, if it's rainy and cool, you will water less often.  Refrain from watering at night as the plants don't like to be wet during the night this may cause mold and the plants to die off.
Feeding your plants is a must. You should water with a soluble fertilizer at least every 10 days.  Again, water enough that it runs through.
Last, take a few minutes to clean off the dead flowers and snip back any leggy growth. This will allow your plants to continue to thrive and look beautiful.
My pots are all planted for this season, waiting on the frost to leave us so they can be put on the patio. Below is a picture of the pots now and also a few pictures of my pots mid-summer last year.    Can't wait to start enjoying my patio again this summer and I wish you the same!
Linda DeWoody
Personal Lines Account Manager