No responses
New at Barr's Insurance!
Barr's Insurance is proud to announce our latest technology, DocuSign. With the fast paced lifestyle in this day and age, we know it is crucial to offer the quickest and most efficient forms of service. With that in mind, we have just implemented this new program with select companies that allows you to electronically sign any needed forms.
Why is this big news?   
Most of us have been there…driving through a dealership lot "just to look".  A salesman comes out. Next thing you know you're in the finance office buying a car unexpectedly and unprepared.
You can't wait to get those keys in your hand!
You call your insurance company and you find out you need to sign some paperwork before you can drive that car off the lot.
With DocuSign we can email you the paperwork.  You can access this email immediately from any computer or mobile device (cell phone/tablet).
With the click of a few buttons sign the forms. It will automatically send the forms back to us.
The process can take less than 10 minutes!
No more hassle of having to fax the paperwork or you having to leave the dealership to come to the agency.
It's quick and easy; which is exactly how the process should be!
Note: As an independent insurance agency we have the capability of writing with many different companies. Not all companies accept this form of signature at this time.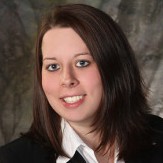 Kerri Yashinski
Personal Lines Account Manager